Just Among Friends…
Library Day Book Sale at the Veterans Memorial Building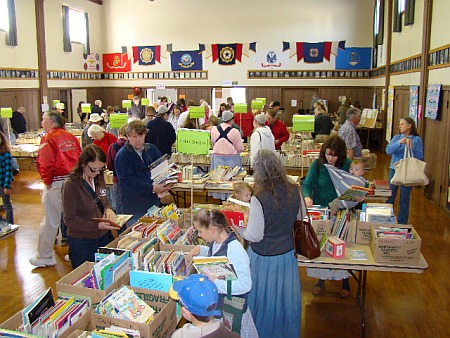 Library Day 2014
Fortuna Friends of the Library held its 13th annual Library Day March 8, which included a large book sale and dinner.  Due to community generosity, it was very successful.  This fundraiser allows our library to serve the needs of a large area.  Last year we provided $16,000 to purchase books, materials, magazine and newspaper subscriptions, support library programs, and this year, three new computers.  We'd like to thank News Channel 3, Foster Farms, Fortuna High and elementary school students whose artwork was displayed, and Milton Conley who prepared the great dinner.  The many volunteers were truly appreciated.
New web address
Please note that we have a new web address, thanks to the generosity of the Friends of the Redwood Libraries, which has provided a web home for branch Friends of the library groups. Look for us at www.frlfortuna.org or by clicking the Friends link at the library home page. The Friends appreciate FRL's generous donation of time to maintain the web site.
---
Mission
The Friends of the Fortuna Library is a non-profit organization dedicated to supporting and enhancing Fortuna's Memorial Library. Our revenues derive from book sales, donations and member support. We sponsor the Grandparents and Books program and the summer reading program for children.
Meetings
New members are welcome to attend monthly meetings, currently held at 4:00 at Fortuna City Hall on the fourth Wednesday of each month.  Minutes and meeting dates are posted in the library.
Volunteers Needed:
The Friends of the Fortuna Library need help in the following areas:
Annual Book Sale
Grandparents & Books
Volunteering at the library
Help with Fortuna Library Day
Maintain web page