Just Among Friends
The Friends of the Fortuna Library Newsletter
Library Day Book Sale at the Veterans Memorial Building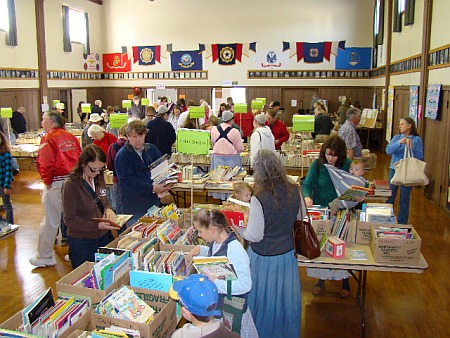 Library Day 2014
The 13th annual Fortuna Library Day will be Saturday, March 8.
Activities will be held again at the Veterans Memorial Bldg. on Main Street. A big used book sale opens at 10 a.m. and will continue through the dinner hour.
Art by local students will be on display.
Dinner will be served between 5 and 7 p.m. Tickets for the dinner are available at the library or by calling 725-2070. Purchase includes membership in FFL.
Library Day help needed
If you able to help with the used book sale, please contact Dale Harris at 725-2963. Volunteers are needed to help set up on Friday afternoon (March 7) as well as on the day of the sale.
New web address
Please note that we have a new web address, thanks to the generosity of the Friends of the Redwood Libraries, which has provided a web home for branch Friends of the library groups. Look for us at www.frlfortuna.org or by clicking the Friends link at the library home page. The Friends appreciate FRL's generous donation of time to maintain the web site.
---
Mission
The Friends of the Fortuna Library is a non-profit organization dedicated to supporting and enhancing Fortuna's Memorial Library. Our revenues derive from book sales, donations and member support. We sponsor the Grandparents and Books program and the summer reading program for children.
Meetings
New members are welcome to attend monthly meetings, currently held at 9:30 A.M. on the fourth Wednesday of the month. Minutes and meeting dates are posted in the library.
Volunteers Needed:
The Friends of the Fortuna Library need help in the following areas:
Annual Book Sale
Grandparents & Books
Volunteering at the library
Help with Fortuna Library Day
Maintain web page